ETHERFACE
Video signal converter and 10G fibre optic transmitter. Optically isolated input for MDM with looped signal output.
Key Features
SDI, DisplayPort or HDMI signal conversion to 10G optical Ethernet 802.3 compatible packets
4K Resolution up to 4096×2160@60Hz 
10GBASE-SR (SFP+) compatible
Lossless transmission, no compression
Zero latency ensures perfect hand / eye coordination 
Local signal loop through
USB for HID Devices (e.g. Keyboard & Mouse) to control connected sources
Remote monitoring of the Etherface-1 from MultiDisplayManager (MDM)
Wall mount and table versions.
Fanless design, no noise emission
Electrical safety according to standard EN62368 and UL60601 (recognition mark component)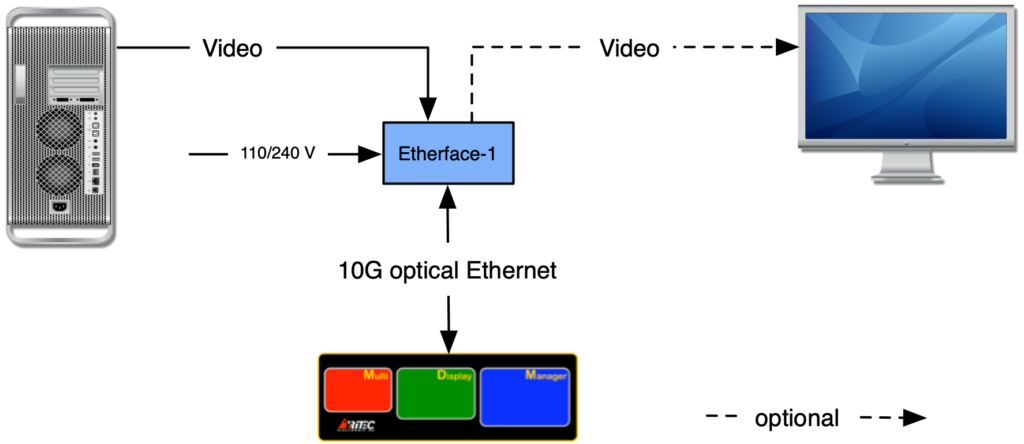 ADIO
Video signal repeater and converter with one device only.
The All-In-One design of the ADIO-1 device tidies up your complete installation as it combines a lot of single boxes with their power supplies and cables to one unit only. Reducing possible point of failures makes it much more reliable, easier to use, to control and to debug. It is more cost effective too.
The ADIO-1 signal repeater and converter is the Swiss Army Knife of connecting video sources of many different types and protocols to a Multi Display Manager, digital video grabber and/or video processor device. Combined with a MDM/MDI-7 Board no additional power supply is necessary and full monitoring of the source quality is possible from the Multi Display Manager administration interfaces.
KVM
The KVM Option enables the functionality to control up to 14 inputs of the MDM by using directly attached keyboard and mouse combinations at the MDM itself. It is possible to use this feature for 4 users working simultaneously, sharing the inputs.
DLS
This option provides a hardware based DVI DualLink spiltter and downscaler in one small external box. The DLS has two Dual Link DVI Inputs and four Dual Link DVI outputs as well as one Single Link DVI Output which offers a downscaled image of 1920×1080 pixels. The DLS is used e.g. to mirror a full 8 megapixel display on a second screen.