The Multi Display Manager supports multiple ways of configure and control the device.
External Browser Interface
A full featured configuration WebApp is provided by the MDM by its internal LAN Interface. 

OnScreen Interface
The Multi Display Manager is able to show the configuration WebApp as a single window OnScreen. It is usable by connecting a Keyboard and Mouse beneath a display to the MDM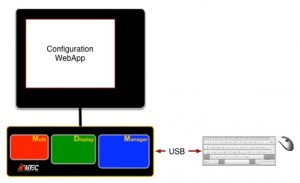 REST Interface
The REST Interface provides OEM partners to fully integrate the configuration of a MDM into their management environment. A well documented and standardized interface language keeping implementation efforts on a very low level.

Touch Panel PC 
The latest development is a network attached Touch PanelPC which is able to switch the layout of a display which is attached to a Multi Display Manager.  It is possible to have multiple Touch Panel PC connected to one MDM.