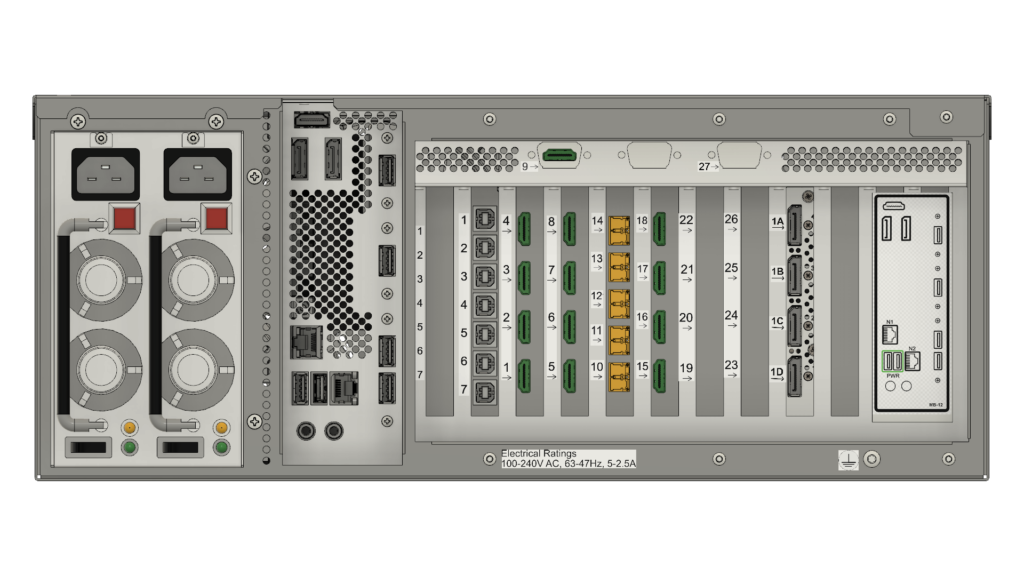 Up to 27 video inputs
Supports UHD input signals
Simultaneously support of up to six independent displays 
Real-time architecture with low latency
Customer definable screen arrangements
Hardware scaling with bilinear filter for best possible video quality
High reliable design with redundancies & watch dog build for 24×7 operations
On-Screen administration tool & API for remote control & Touch PanelPC support
Multiple User KVM functionality fully integrated
Hybrid Technology with 10G Fibre Ethernet and directly attached sources
Virtual Inputs and Virtual Outputs via IP Streaming
MDM contains all system functionality in one unit
Capability to collect, combine, and transmit up to 27 different video sources on up to 6x 8MP QFHD@60Hz displays.
UHD input signals with 550/594 MHz pixel clock.
Digital and analog inputs are supported. 
2-3 frames delay from input to display possible because of a Real-time architecture
Customer definable size, position and scale of sources, including overlapping.
Sources can be cropped on top, bottom, left or right.
Signal can be scaled by a factor of 0.1 to 10.0.
Signals can be duplicated to show the same input, cropped or sized.
Sources can be framed (borders with selectable colours and thickness) and named (font, color, size and position definable)
Customer definable arrangement sets that can be easily switched via Touch PanelPC, web-interface with iPad or similar device.
Arrangements are storable at the system as well as external storage equipment.
Switching between predefined arrangement sets is less then 500ms
In critical environments, the MDM has a highly reliable design. No hard disk is used; Redundant Power Supply's; and Active Watch Dog are employed
Robust construction and material methods employed for use in specialised Medical and Industrial disciplines build for 24×7 operations.
Status information and Diagnostics accessible via network.
Customising for OEM partners is available.